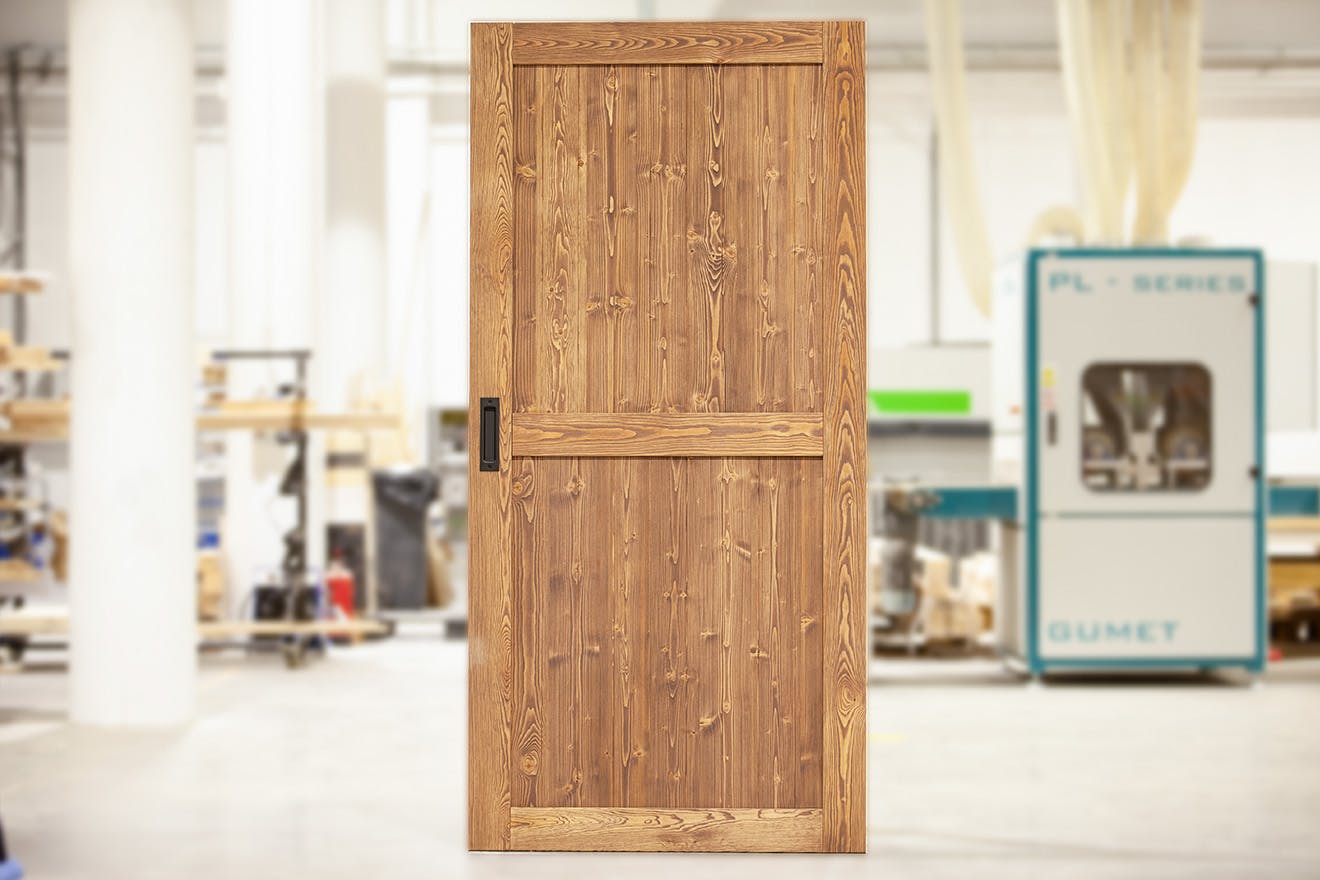 Probably you won't be surprised, when we say that what makes our doors unique is the wood. We love this material, and we know how to get the best out of it. Today, we will tell you a bit about why we believe that wooden sliding doors are truly unique, and we will tell you where to look for the magic by Reno.
What makes wooden doors unique? Wood, wood and wood again.
The magic by Reno is in wood. It's simple. We will try to explain what this means.
Uniqueness
On the market, you won't find many items for finishing the interior that are truly made of real wood, rather than plywood or honeycomb cardboard fillers. At Reno, we don't compromise it, when we say doors are wooden, we really mean it.
Where functionality meets beauty
The wood that we use in the production of Reno sliding doors is a combination of spruce or pine wood (three-layer board and top layer) and hard wood, e.g. beech (stile). We believe that they are a perfect duo offering, on the one hand, maximum sustainable production and, on the other hand, long-term durability.
So let's focus for a moment on what is most important to us, i.e. the magic that we lock in our products thanks to the thoughtful selection of materials.
Choice of materials - beauty and sustainability
Why spruce or pine are our choice for the outer layer of the door, i.e. top layer? Foremost, they are characterized by a really beautiful grain pattern. In addition, these trees are the most suitable from the point of view of sustainable development, which we care about. Natural resources of conifers regenerate quickly, and this is very important to us.
Interesting fact: Do you know what the most sustainable tree is? Bamboo. It is the fastest growing tree in the world, so we may include it in our production in the future.
Stiles are made of hard wood (e.g. beech or alder) to ensure durability and solidity of the structure, which is to serve for many years without deformation. In our opinion, this is the best combination of functionality with true elegance and aesthetics, as well as with care for the environment.
Where do we source raw materials from?
All our products are made of raw materials that come from responsible sources. We make sure we source only certified wood from Poland or other European countries, preferably neighbouring ones. Depending on which supplier we buy the wooden elements from, they have one of three significant certificates:
This way, you can enjoy the beautiful design, and we make sure that the products we deliver to you are sourced with respect for the environment. Because it's important!
Deformations? We have a way
Because wood is our speciality, we can say that we know a lot about it. Maybe not everything, because no one has yet discovered all its secrets, but certainly enough to create objects that are not only beautiful, but also durable.
One example of Reno's approach to door design and manufacture is the response to the challenge of the fact that wood is "working" constantly. Under the influence of moisture or temperature, wooden elements can bend and change their volume. Therefore, in order to compensate for this effect and obtain a straight, deformation-free surface of the door, we used a three-layer board instead of an ordinary solid board.
How it's working? As you probably know, wood has a lot of fibers that run in the same direction in one board. When we connect three boards, staggering them, the fibers will support each other, minimizing the possibility of deformation.
Remember: Even the best quality wooden elements are subject to deformation if they are exposed to the harmful effects of moisture, e.g. placed next to a radiator or near a shower in a poorly ventilated bathroom.
Fact: Do you know the difference between top layer and veneer? Top layer is a layer with a thickness of more than 1 mm, unlike veneer, which is 0.4 mm.
Deep brushing
Brushing the wood is our favourite production step. This is probably the most magical element in the production process of the doors that then go to your homes. Brushing means extracting the most beautiful elements of natural raw material from wooden doors, emphasizing its unique character, giving it individuality.
We have already talked about how brushing works many times. So we just remind, that in the brushing process we remove the outer, soft layers of wood. Thanks to this, we can emphasize what is underneath, i.e. expressive, darker grain patterns. In this way, we obtain a unique wood structure and improve its contrast.
Oiling and painting
Do you remember when we mentioned that we care about the proper selection of raw materials in the production of Reno doors? We believe that sustainably sourced wood deserves a good finish. For our products, we use RubioMonocoat® ecological organic oils, which are 100% natural. In the case of opaque paints, , we use only safe water based paints.
Machining precision and product assembly
At Reno, we work in such a way to be truly proud of every product that leaves our workshop. All details are important to us, even those seemingly invisible. Each element must perfectly match the other.
The magic continues
What happens when the doors arrive at your place? Is their charm fading? By no means. From now on, you are surrounded by a beautiful interior, which is closed by doors that are easy to maintain and renovate. What do we mean by that?
Simple care
Systems - They do not require special care. If you want them to serve you for a long time, it is enough to oil the roller bearings once every 2 years. You do not need to buy specialized products, all you need are the standard products that you can find in the DIY store.
Doors - Specialized conservation treatments take time, and we like it simple. Therefore, to keep the surface of the door in an impeccable condition, simple care with the use of good products is enough. You can wipe the door with a dry cloth every time you need it, and use soapy cleaners at most once a week. For deep care, we especially recommend RubioMonocoat® products.
Renovation
Do you like changes? We do. That is why our wooden doors are products that can be renovated at any time. After a year, five or even fifteen years. The most important thing is that changing the colour, style and even character of the door is possible, and what is important, it is really simple. We want the door to be resistant not only to moisture and scratches, but also to withstand the changes of your preferences. Wondering why? The answer is simple. Giving products a "new life" is in line with the idea of sustainable development.
If you want, we can help you with the renovation. Just write to us!
RENO quality - details that make the difference
The magic of RENO sliding doors is, above all, quality that allows you to see all the decisions made by our designers and craftsmen and every transformation of the material during the entire door production process. Carefully selected materials, optimized production stages, appropriate techniques and perfectly refined details. All this magic is visible in our products at the very end of the process.
See how wooden sliding doors are made.
If you are thinking about choosing a wooden sliding door for your interior, it is certainly not an easy decision. Therefore, if you need a moment to think, we absolutely understand you. We want you to be completely satisfied with your choice.
In the meantime, we invite you to browse projects of interiors with Reno doors. Maybe you will find inspiration or an idea of what door will best suit your style and taste.
If you have any questions or concerns, our team is always there for you. We are here to make shopping for sliding doors as smooth and pleasant as possible. We want to make sure you have all the information you need to make a conscious decision. Please contact us if you need help or guidance.