Every detail counts in interior design. Even the smallest nuances are invaluable in the pursuit of a stylish, harmonious and original interior. Wooden sliding doors are one of those elements that - seemingly not very distinctive - can enchant the interior, add class and style to it. At Reno, we make sure that every product that goes to our store is extraordinary, beautiful and unique. If you want to understand where the uniqueness of wooden sliding doors comes from, this article is for you!
Reno quality meets the eye, or why do our wooden sliding doors look so good?
There are no two the same doors: a few words about quality
When talking to customers, we often come across the question of what our prices are based on - after all, in many places you can find similar-looking models for much lower prices. We understand these doubts, because we know that it is sometimes difficult to show all the unique features of a product on photos, and it is also very easy to hide imperfections and cover up poor workmanship. Good lighting, interior looking like from a catalog, good editing skills and the cheapest door begin to resemble a high-quality product. Unfortunately, these are just illusions that quickly disappear after seeing the product live, and certainly - after a short period of use in a real interior.
At Reno, we are transparent, and we have nothing to hide, quite the opposite: we want people who plan to arrange their interior to know what exactly they are buying. Therefore, one of our most important tasks is to dispel doubts that arise during purchasing decisions. Sometimes we suggest specific parameters of our products, and other times we share stories drawn from our love for wood. All this so that the customer can understand where some nuances come from: from the price to the authentically high quality of our doors.
Everything we write about on our website is not marketing tricks, but solid knowledge, supported by facts and years of experience. "High quality" is not a well-worn catchphrase, but the certainty that our doors will serve you for many years.
What does it mean to us that the door is wooden?
Wood in our products plays the main role - it is what makes Reno sliding doors unique.
In our company, from the very beginning, we make sure that the door structure is as well-thought-out as possible, combining the delicate appearance of a stile made of pine with hard wood of the highest quality deciduous trees, most often beech or alder.
And that's not all - thanks to the fact that we perfectly understand this specific material of natural wood, we can prevent unwanted bends or distortions already at the construction stage. Did you know that wood works constantly? For this reason, it is necessary to arrange its fibers in such a way that will allow maintaining a straight, deformation-free line of the door - in the case of Reno products, we use a three-layer board instead of a solid board. Three layers of wood are arranged alternately, so the processes taking place in the wood - especially the absorption and release of moisture - do not affect the shape of the final product. Such a solid structure made of wood and metal tracks will easily withstand all conditions. We assure you that you won't find it in many other doors.
Remember! The door can be finished in many ways. Among the stiles, we distinguish, for example, top layer and veneer - they differ mainly in thickness - the veneer has a maximum of 0.4 mm (so it is very thin), and the top layer - at least 2 mm, and may even be 8. In Reno, we use the latter solution due to for the possibility of brushing and renovation.
Deeply brushed wood - our key feature
At Reno, we value beautiful wood patterns - the choice of pine in our projects is not random! Noble, smooth lines, strong contrast, and the structure of the pine wood, which can be felt under the hand, is simply magical for us. Exactly for this reason, we decided to brush the wood, which emphasizes its unique pattern. At Reno, we combine thoroughly dried and specially selected pine planks with a masterly craftsman's workshop to achieve a flawless brushing result.
Even if you decide to have a door painted with an opaque paint, thanks to deep brushing, you will still feel the wood structure under your fingers.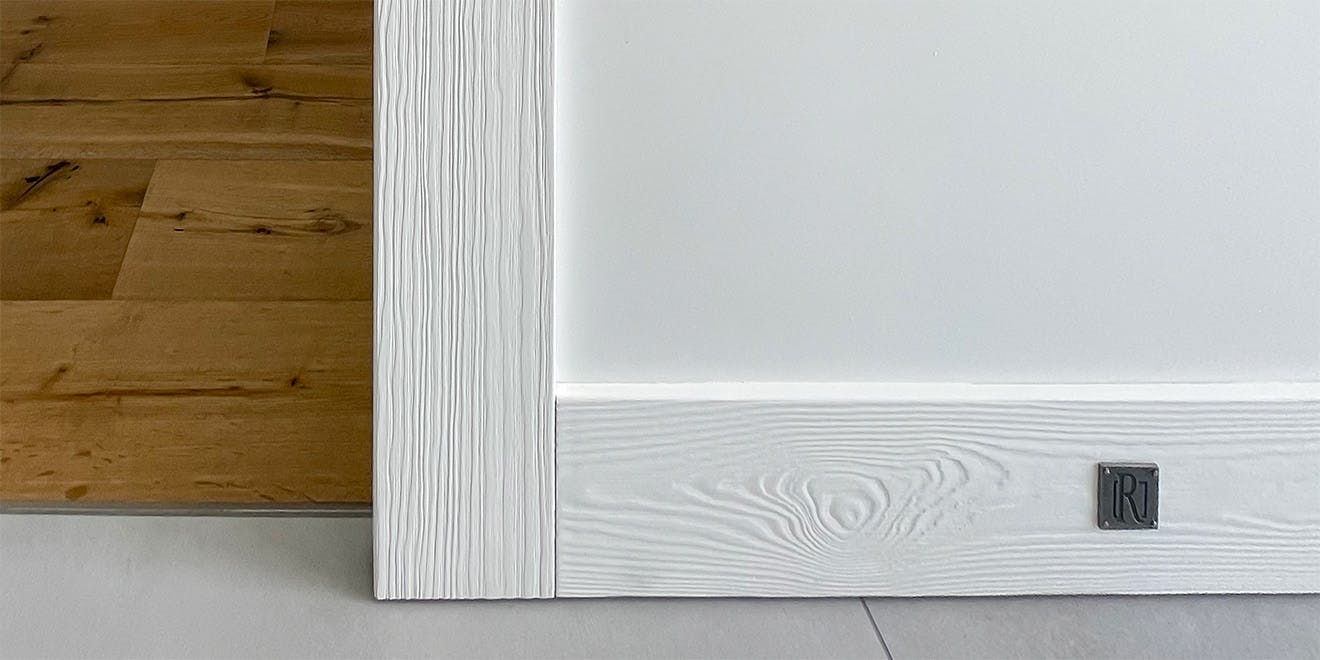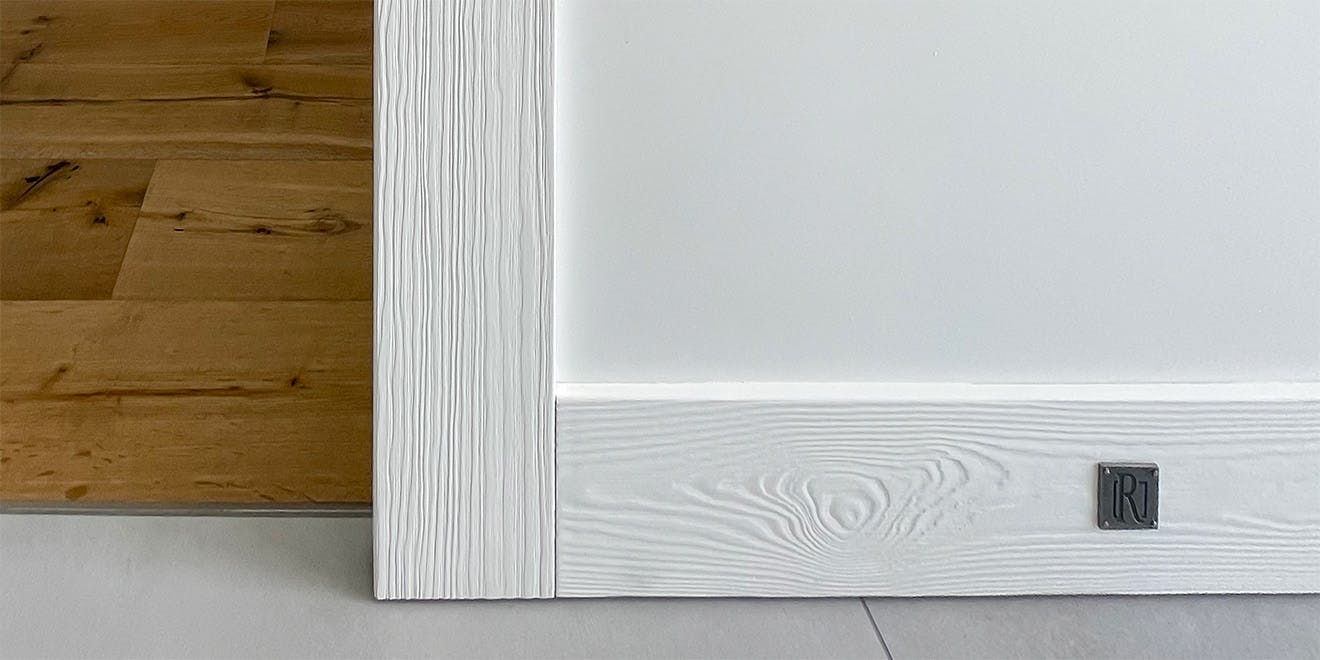 How exactly does brushing work?
In the brushing process, the softest layers of wood are removed, and darker grain marks are emphasized. Such structuring improves the contrast of the wood, enhances its pattern and gives the surface a unique look, perfectly emphasizing the character of rustic, Scandinavian or loft interiors. The whole process is not very complicated, and the effects are simply magical!
And if you especially care about exceptional refinement, simplicity and extraordinary quality, check our Wooden doors. It was created to delight.
Details
At the beginning, we stated that the details make the difference - it's not just an empty catchphrase, but a fact. That is why in Reno products you will find a quiet, reliable sliding system that will not let you down even after many years; unique, natural materials (solid pine and beech or alder wood and a three-layer board instead of a solid board), and in industrial models also glass - safe and of the highest quality.
In which interiors will wooden sliding doors look best?
Scandinavian style:
Industrial / loft style:
Rustic style:
Pop of color:
Do you care for the environment? So do we!
At Reno, we value sustainability and want to act in an environmentally responsible manner. That is why the products we use in production are as eco-friendly as possible, and we import components and raw materials from Europe.
Materials used in production
In the production of our doors, we use ecological organic oils that are free from harmful chemicals. In the case of the opaque paints, we use a wide range of RAL colors of the manufacturer that produces water-based paints that are safe for both the home and the environment.
Natural wood
At Reno, sliding doors are made of 100% wood - and certainly not just any wood 😉 We do not use furniture boards or MDF, but only three-layer boards made of real wood, certified and sourced sustainably. What is also important, we make sure that our suppliers are not on the other side of the world - we place emphasis on sourcing materials more locally, preferably from Poland and nearby European countries.
Doors for years - simple care, easy renovation
Do you know how important it is for the environment to create durable, robust products that will last for many years? This allows to reduce waste and reduce the carbon footprint. Our wooden sliding doors meet all sustainability requirements, including above-average durability. We also took care to provide you with ecological products for the care and maintenance of wood. Our offer includes, among other things, a wood re-freshener for oiled doors, which helps to maintain a fresh, natural, intense color. Apart from that, the door care is very simple - all you need is a slightly moistened soft cloth.
Quick renovation? We took that into account
What if you want to change something at home or re-compose the interior colors? No problem! Thanks to the design of Reno products, there is no need to replace the entire door, but only remove a part of the top layer (top pine layer) and, for example, repaint the door with a new color. And the magic happens by itself - your interior gets entirely new character!
Allow yourself to make a good choice
Choosing a sliding door made of high-quality materials is the best decision you can make when it comes to your interior. Remember that this is a specific product that will serve you for many, many seasons, so it is definitely worth investing in a purchase from a manufacturer that you can trust.
If, like us, you love excellent quality, a deeply brushed wooden door will steal your heart. For years!
If you have any questions, we are here for you. Contact us by Chat, send an e-mail or call the hotline - let's do it! 🙂
White rustical sliding doors