Sliding doors save space, are a functional addition to the interior and an original design. They can develop their full potential in combination with an appropriate sliding system that will suit them not only technically, but also in terms of aesthetics.
We have noticed that interior designers more and more often use white sliding systems. In this article, we will tell you why the minimalist design in white is equal to the popular black, and together we will consider which interiors our white doors and white systems will be perfect for.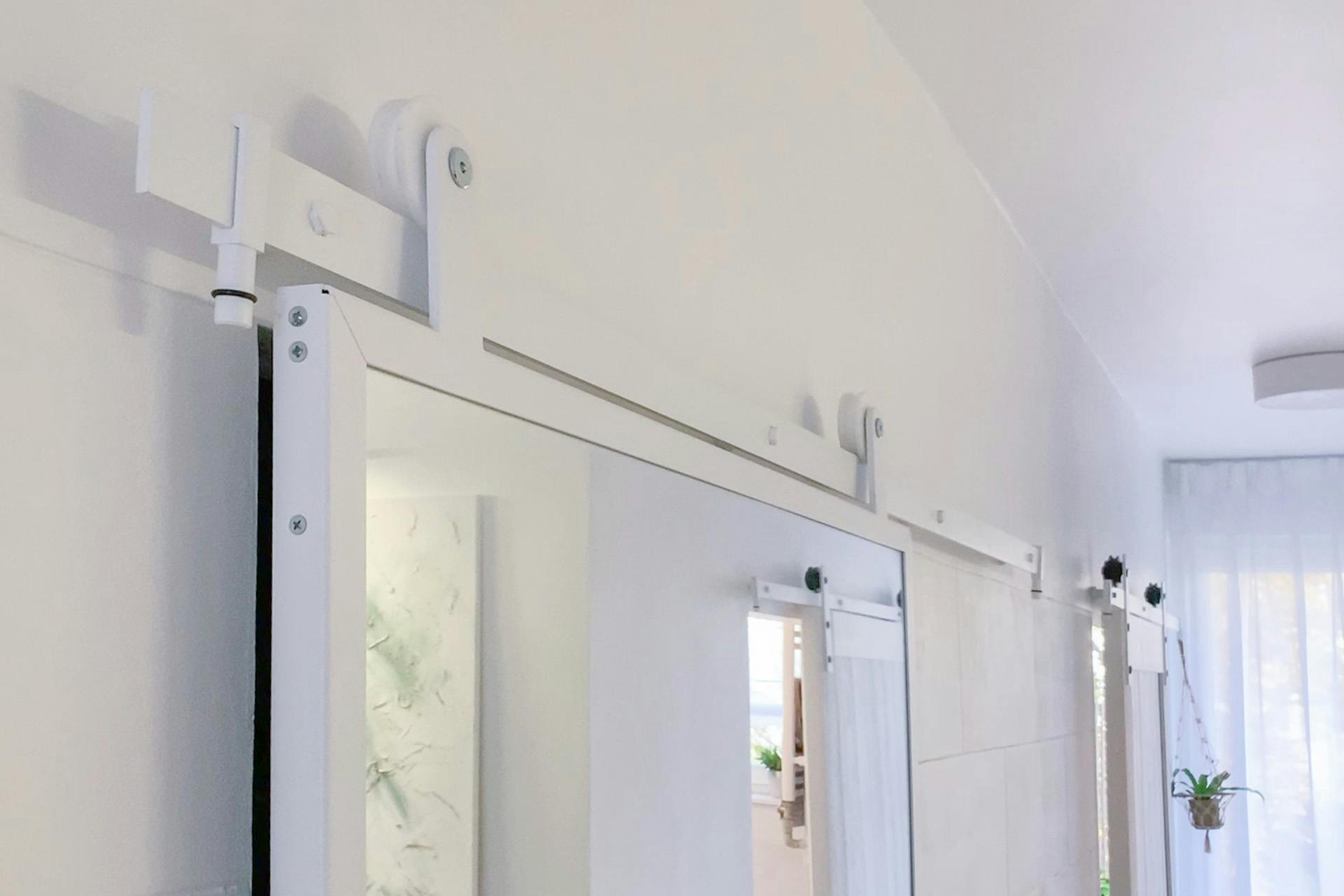 White sliding system - an original approach to the interior
White is simple, bright, light and in many interior contexts also cosy. We can see from our customers' reactions that when a white sliding system is combined with a white sliding door, the effect is stunning. But that's not all! Let's discover together how a white sliding system with white sliding doors can change the appearance and functionality of your interior.
What are the main differences between white and black sliding systems?
Black - rustic
Black sliding systems are commonly associated with a rustic style. Black adds character and depth to a room, creating a distinct, powerful effect. What's more, black sliding systems can perfectly match raw, industrial interiors, brick lofts and projects with a more bold character.
White - lightness
White sliding systems are a completely different character. White is simplicity, minimalism and lightness. Sliding systems in this colour are an excellent choice for modern, minimalist and bright interiors. They create a subtle, elegant effect that blends perfectly with neutral wall colours (and sometimes even with the most intense colours) and other elements of the decor.
Does this mean that white can't be rustic? Not necessarily!
The solution with white can still be rustic, but much lighter, more subtle.
By choosing a white sliding system, you can still achieve a rustic character in your interior, but in a more subtle form. White gives the sliding system lightness, making the interior more spacious and bright. This combination strikes a balance between rustic and modern aesthetics.
When to choose a white and when a black sliding system? Simple tips
The choice between a white and a black sliding system really depends on what you expect from the interior. So, think about your preferences, what character of the room you want to achieve and what aesthetic values you particularly care about.
We've put together a few tips on the specifics of both colours to help you decide.
White is a universal colour that fits most interiors. Thanks to this, white sliding doors can be successfully used both in modern, minimalist designs, and in more classic or rustic arrangements.
The white colour brightens the space and optically enlarges it. This is especially important in the case of smaller rooms or small apartments, where every centimetre of space also matters visually. White sliding doors combined with a white sliding system can create an impression of lightness and spaciousness.
The white sliding system fits perfectly into interiors with bright colours, minimalist arrangements and modern design.
White will be perfect for spaces with large windows, where it will introduce even more natural light. But that doesn't mean that you can't use it in creative interiors, where white will stand in opposition to the intense colours of the rest of the room.
White systems look great in minimalist arrangements, as well as Scandinavian, boho, modern rustic and all kinds of interiors inspired by nature.
The black sliding system fits perfectly with industrial, rustic (e.g. as part of iconic barn doors) or loft style interiors. It also fits projects with a more bold character, where black colour can be a distinctive accent and can add elegance.
Both white and black sliding systems create a coherent and harmonious interior design that impresses with its simplicity and elegance, and at the same time adds a unique character to the room.
Various shades of white in the interior
The interiors in various shades of white offer extraordinary arrangement possibilities. Do you want to create an interior with a unique style? You may like one of the three variants of using white sliding systems in apartments.
Industrial white: The combination of a white sliding system with raw elements in the background gives a great, industrial effect. This combination gives the space austerity and modernity, emphasizing the minimalist character. And yes, you can use white in industrial interiors, you just have to remember to balance it properly.
White and contrasts: Another interesting approach is the combination of a white sliding system and white doors with different background variants. What does it mean? Behind the sliding system there can be a white wall that will give the interior harmony and peace, or quite the opposite - there can be a colourful wallpaper or a contrasting background (even black!), which with white doors and a white sliding system will create a dynamic contrast. So you can use white in two ways: white + white or white + contrast.
Rustic white: A white sliding system combined with a wooden sliding door can also give a soft, rustic effect. Natural wooden accessories and interesting decor elements will make the interior delightfully cosy and warm. It is an excellent choice for those who want to combine the minimalist aesthetics of a white sliding system with the charm and tradition of a rustic style.
That's enough theory - let's get to the inspiration!
Projects with white accents
Home yoga studio with large mirrors
This interior is the definition of natural elegance. Warm shades of brown combine with the dark floor and white walls. Climatic lighting adds a calm character to the interior. White double sliding doors with a mirror in a white metal frame are perfect for all this.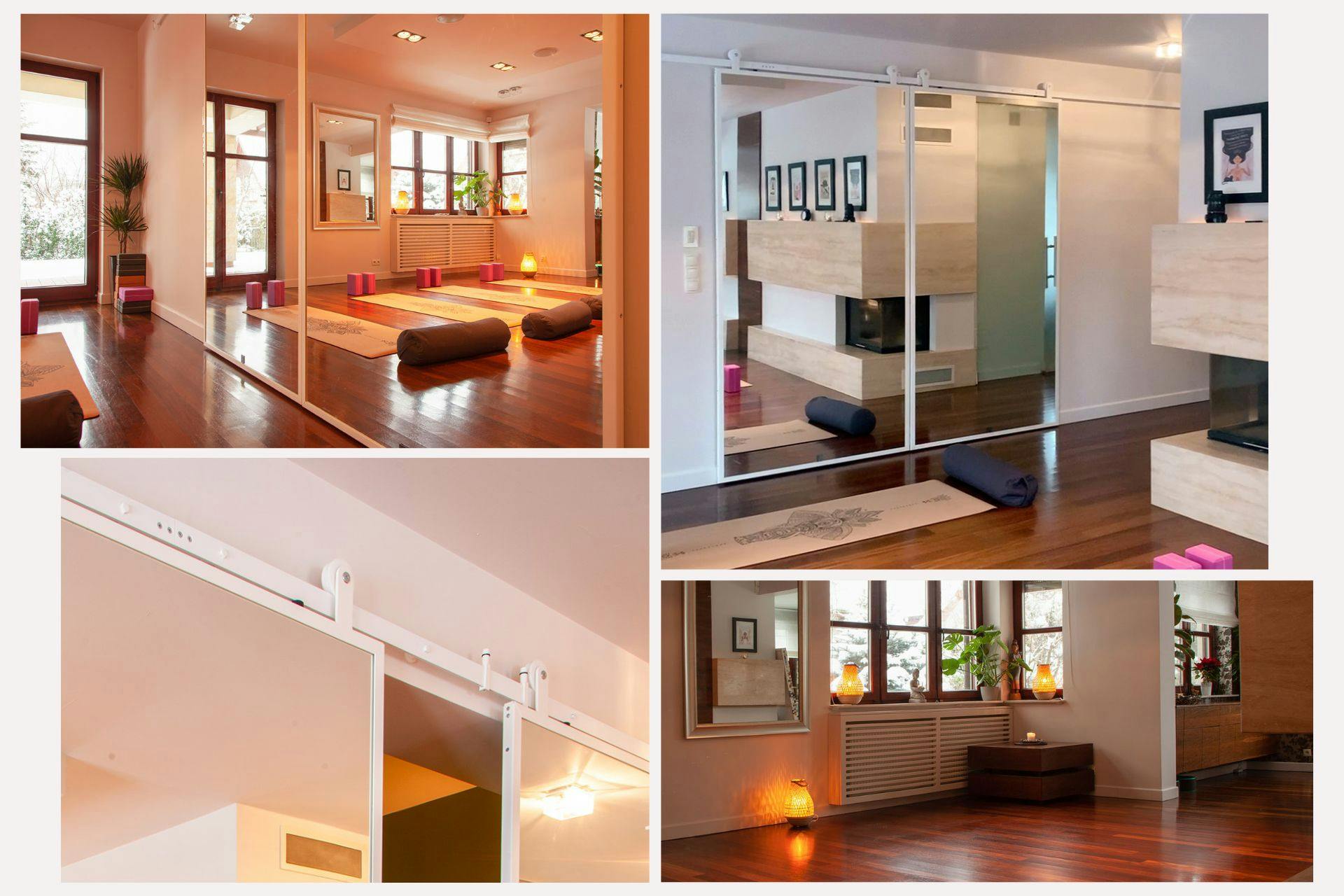 A small apartment in white
White is a great idea for small apartments. We have already mentioned a lot about lightness and optical enlargement of space. See how it looks in practice. The use of sliding doors in the project created a unique effect with functional and aesthetic values. This is another proof that a small apartment can be comfortable and beautiful at the same time!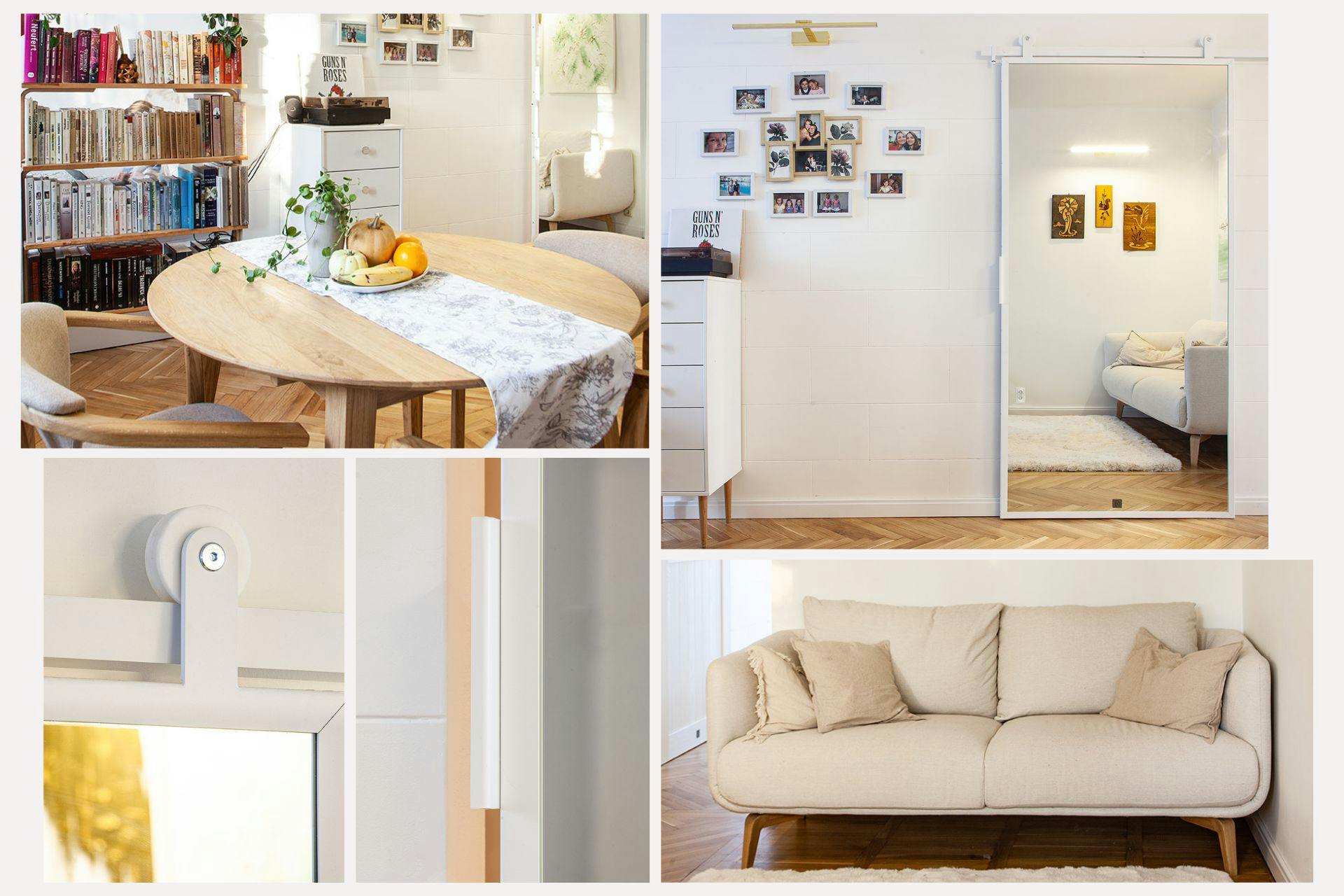 Large dressing room with white wardrobes
White in a cosy wardrobe? We say yes! Just look at how much cohesion this large, bright interior has gained thanks to the consistent adherence to white accents. Black accessories would disturb this fantastic harmony, and white looks phenomenal.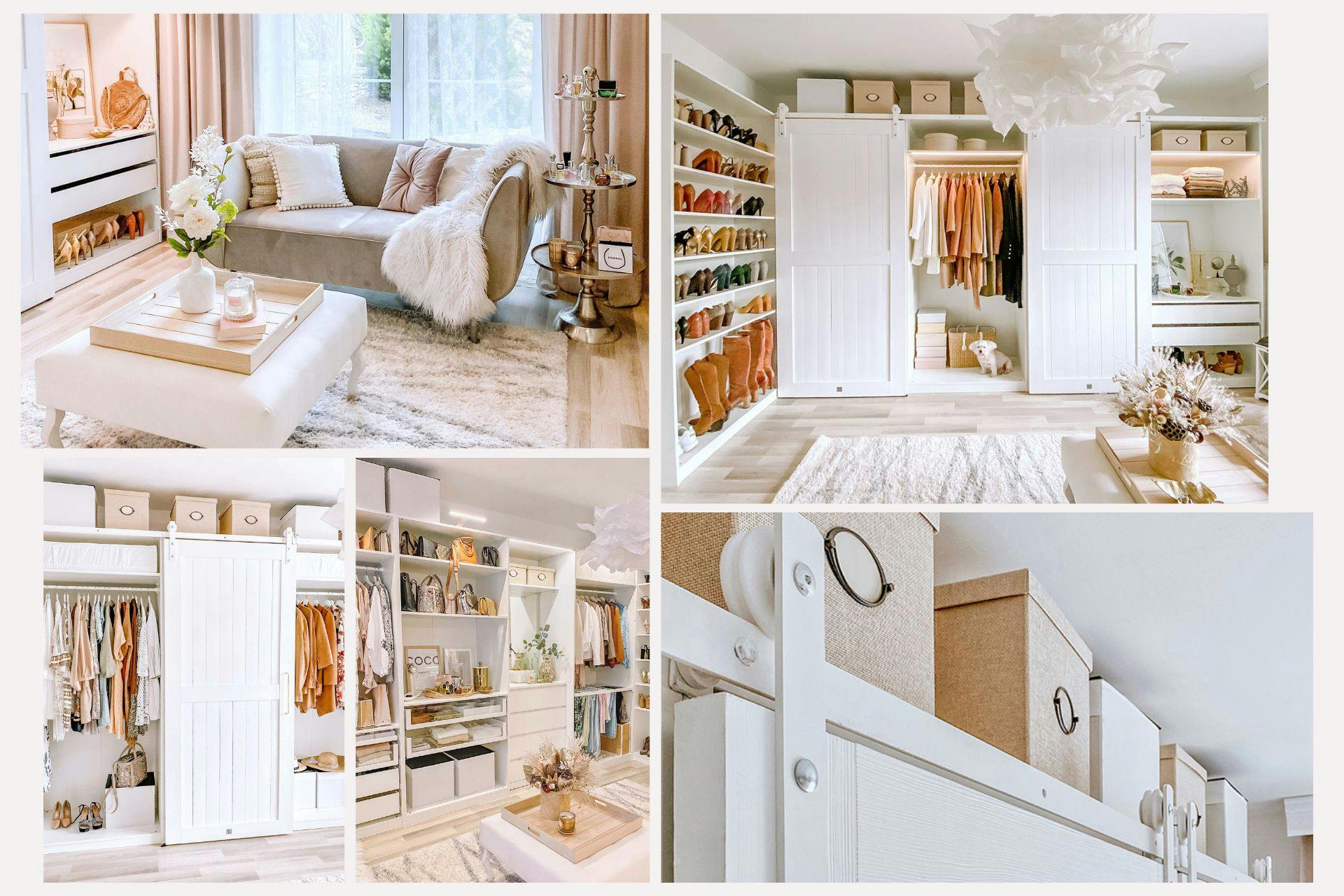 Rattan in a duet with white
Although rattan is most often seen in combination with a black sliding system, in this interior white brought this unique material to the fore. Rattan doors to the walk-in wardrobe, on a white sliding system, added natural lightness to the interior.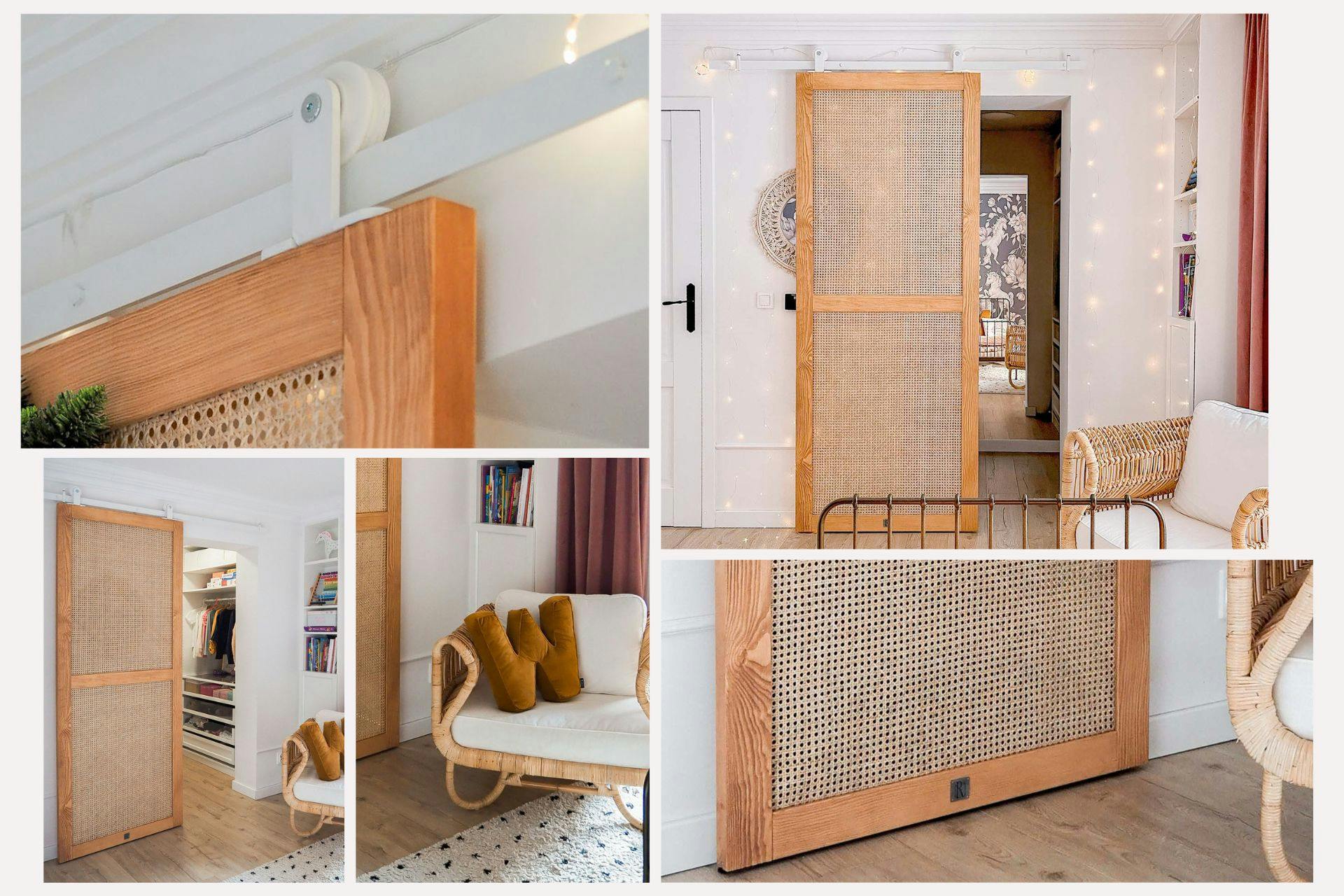 Bathroom in white and gray
A combination of gray, beige and an even brighter colour is rare. In this case, white accessories contrast surprisingly well with smooth, matte doors! The interior is neutral, pleasant, light and bright.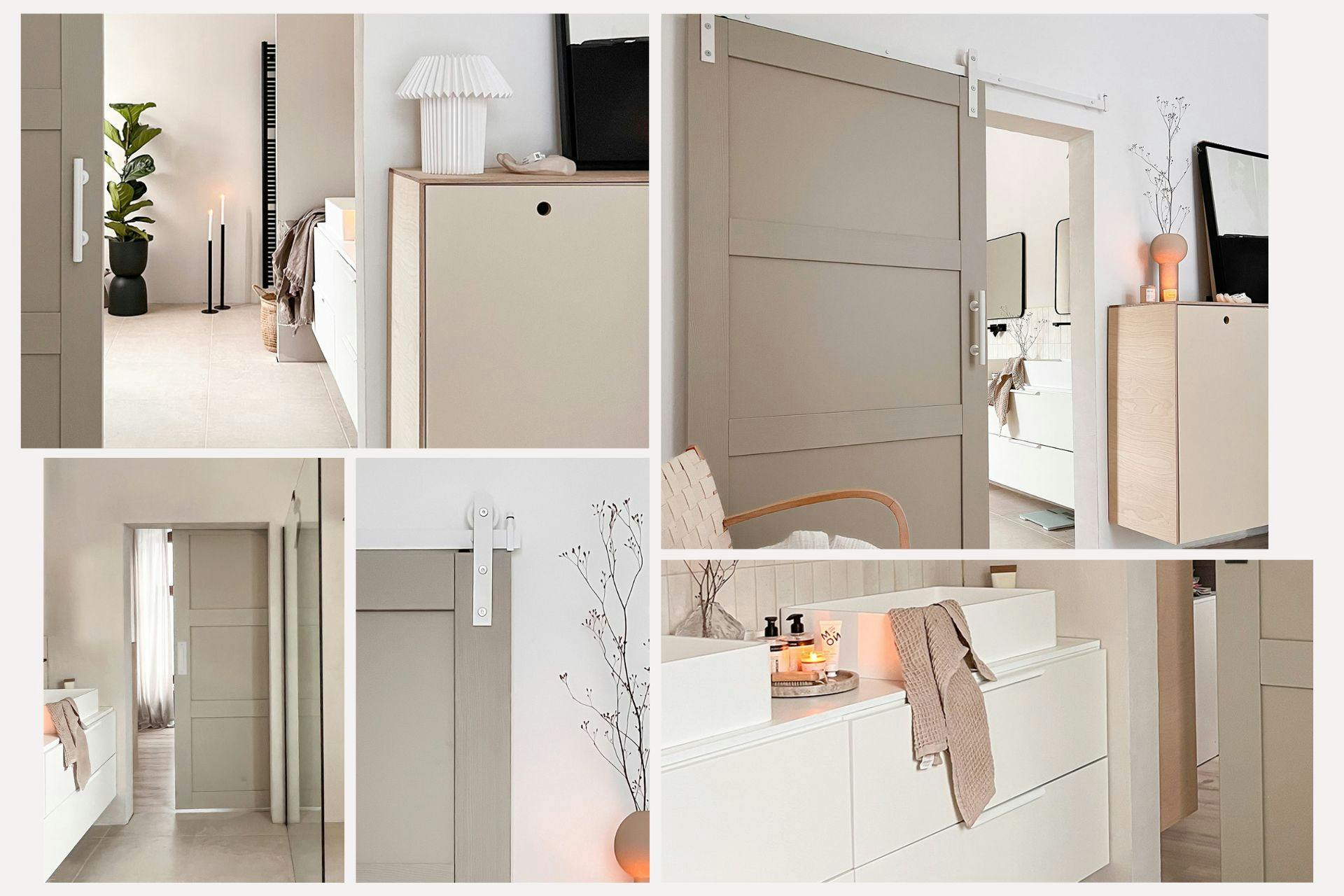 Rustic style bedroom
When we talk about rustic style, we most often think of wood, cosy accessories and ... black. In this interior, the owner decided to perversely combine wooden elements with both white and black, creating an interesting, diverse interior.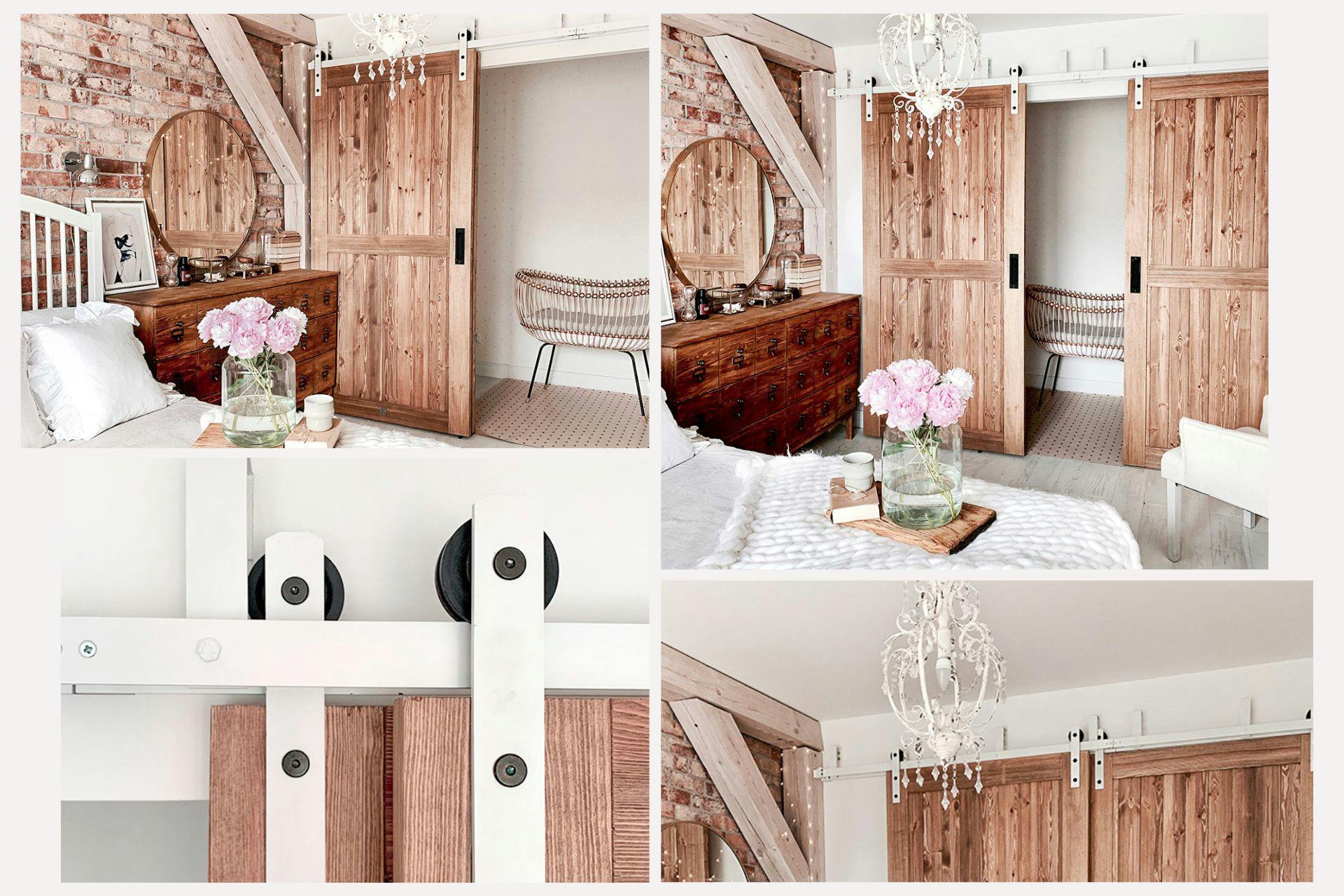 All these variants of white in the interiors give almost unlimited design possibilities, allowing you to create unique compositions and adjust them to a specific style and character of the rooms. The white sliding system is an unusual combination of functionality, lightness and aesthetics, which perfectly matches various interior styles.
Now you know why to choose white. Check out our doors and systems that we have collected for you and choose the model for yourself.