The use of sliding doors for the pantry is not only a design choice, but also a very functional one. They give an elegant look while providing practical benefits such as space-saving, easy access and more storage space. The pantry is one of the most frequently used rooms in the household. It is important that the pantry door is not only practical, but also aesthetic. In this regard, sliding doors have several advantages over traditional doors. In this article, we will look at the benefits of such a solution and ideas for arranging in several different styles. Here are some tips and inspiration to get you started!
Pantries with sliding doors - why is it worth it?
The pantry is an important part of the home as it serves as a place to store food, utensils and other household items. One of the ways to increase the aesthetics and usability of the interior with a pantry is to install sliding doors. There are many reasons why you should opt for such a solution.
1. Space-saving
The first matter is a typically practical aspect. Sliding doors can help save space. Thanks to them, you do not need additional space when closing and opening, which would be required in the case of traditional hinged doors. The perfect solution for small kitchens and interiors where every meter of space counts.
2. Easy access and comfort of use
Sliding doors will provide more convenience in terms of accessibility and organization in the pantry itself. The smooth sliding mechanism allows you to easily open the door even when you have both hands full. With one simple move, you have access to all the items in your pantry. You can easily reach for the necessary ingredients when preparing meals.
3. Unique character
We have no doubt that sliding pantry doors are at least an original choice, in the best sense of the word. This solution is not very obvious, and thus surprising all visitors to your home. If you value uniqueness, sliding doors will add an element of style. Whether you're looking for a modern look with a minimalist track or something more rustic with exposed tracks and rollers, a sliding door will add character to any space.
4. Many possibilities of arrangement
Rustic or modern rustic style is not the only arrangement option. The great advantage of sliding doors for the pantry is the countless number of compositions that can be developed and implemented. On the one hand, we have classic, cosy interiors, and on the other (for example, if you choose metal-based sliding doors) - industrial, raw, minimalist atmosphere. Below, we will describe four interesting proposals for interior design in various styles. Maybe one of them will caught your eye?
5. Durability of the solution
We value unusual quality in sliding doors. We have already dedicated many posts of the topic of using natural wood in the production of Reno doors. Thanks to years of experience and observation, we know perfectly well that our proposal is a solution for years. In addition to durability and quality, it is also worth mentioning the ease of care, as well as the possibility of renovation and minor changes. Eventually, after five or ten years, you might be tempted to change a rustic pantry for an expression of colour, right? To do it, it will be enough to remove the outer layer of the door and repaint it.
Pantry sliding doors - inspiring arrangements
1. Scandinavian vibe
The first inspiration we have prepared for you is an arrangement inspired by the Scandinavian style. Lots of light and bright, delicate, warm colours here. Light walls, wooden floor, open shelves, white cabinets. Everything in this interior adds up to a harmonious, calm and orderly composition. It is worth paying attention to the wooden elements that perfectly match the rustic pine door: a clock with wooden inserts, a lamp, and even such small elements as spoons or cutting boards placed on the counter.
People who do not like overly traditional rustic interiors will feel perfect in such an interior. This slightly more minimalist, Scandinavian arrangement perfectly balances cosiness and modernity.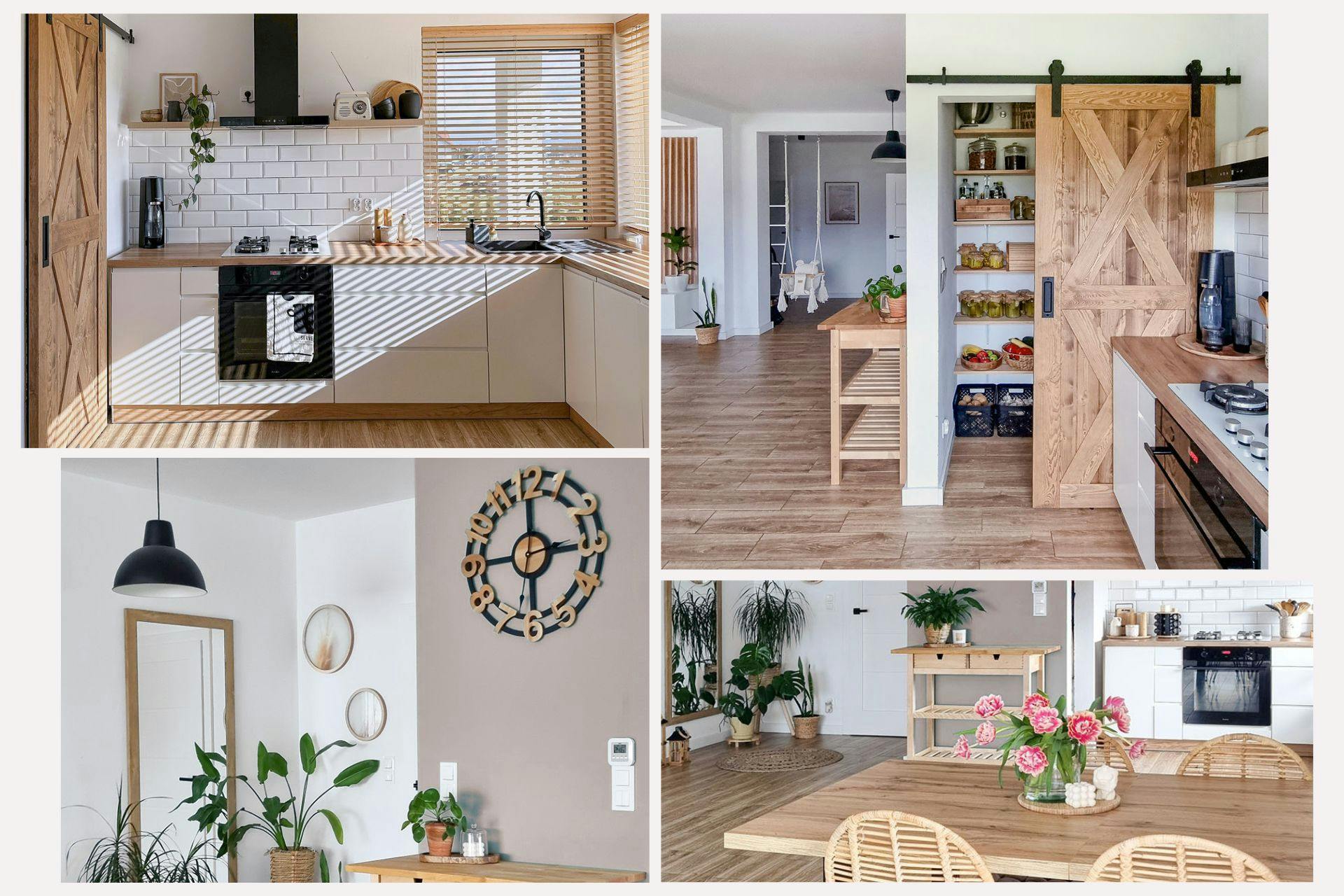 2. Artistic maximalism
If you like when there is a lot going on, such artistic, sometimes even decadent maximalism will undoubtedly delight you. The creator of this interior showed great intuition, combining old, vintage elements with what is completely new, and maybe even innovative. Take a look at a smooth, beige wall juxtaposed with an aged brick, or a fantastic portrait of Luiza Mayer by Ferdinand Georg Waldmüller, but with ... bubble gum. In this interior, heavy, solid, black sliding doors look phenomenal.
After all, the unique artistic atmosphere is not only well-thought-out decorations, but also beautiful doors in a strong, black shade.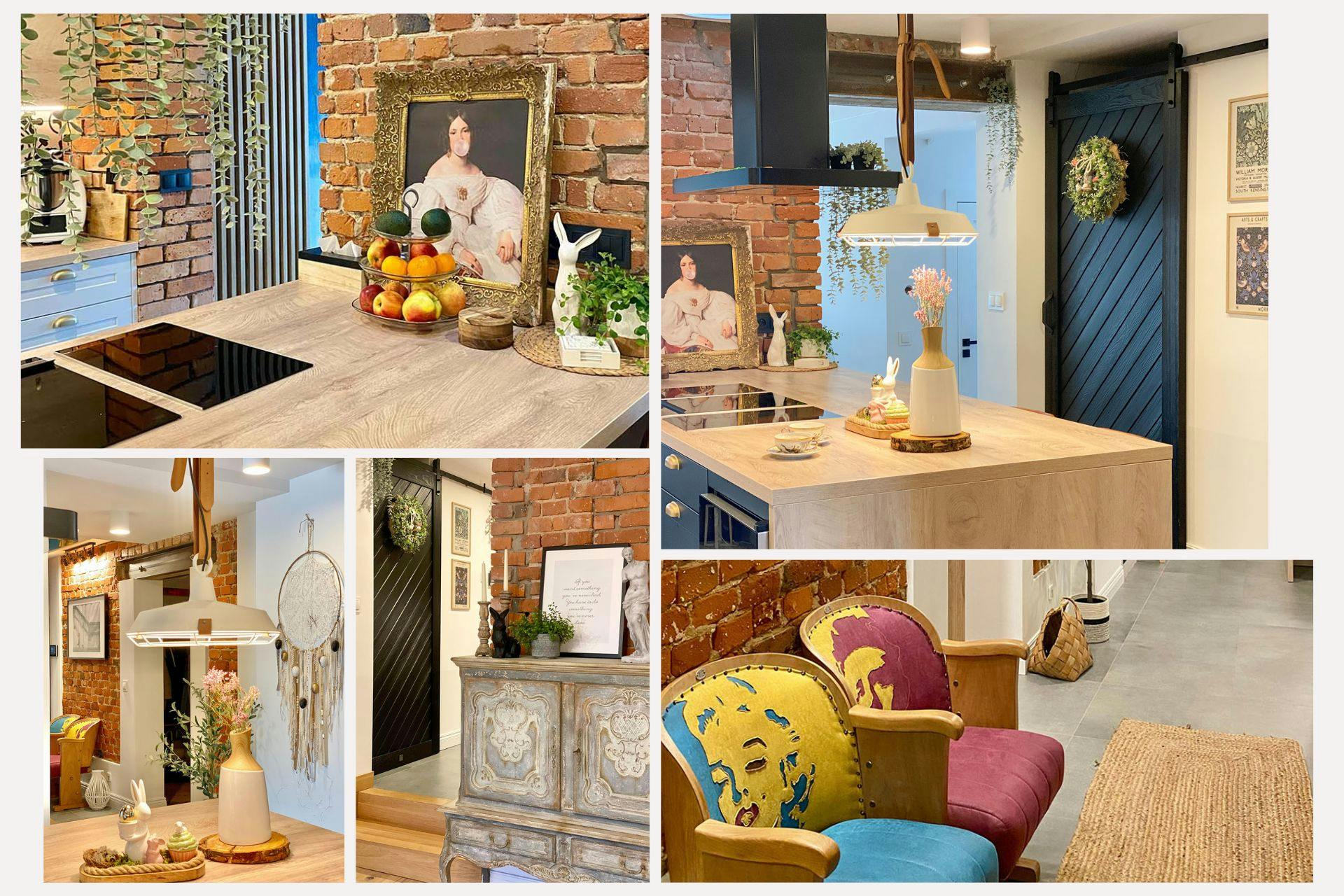 3. Boho variety
The boho style in interior design is an ever-popular trend that is characterized by an eclectic mix of colours, textures and patterns. It is inspired by the 1960s, but not only. To create unique effects, it cleverly combines elements of different cultures and eras.
The main features of the boho style are:
natural materials,
vivid colors,
an eclectic approach to interior design,
the abundance of cosy fabrics and decorations.
As you can see, sliding doors perfectly fit into the boho style thanks to their specificity. They are delicate, they add warmth to the interior, and are easy to decorate (for example with charming door wreaths). They don't overwhelm, but give the impression of variety. You can easily combine them with an abundance of natural materials, such as wood, wicker, linen, wool, rattan, raffia or seagrass.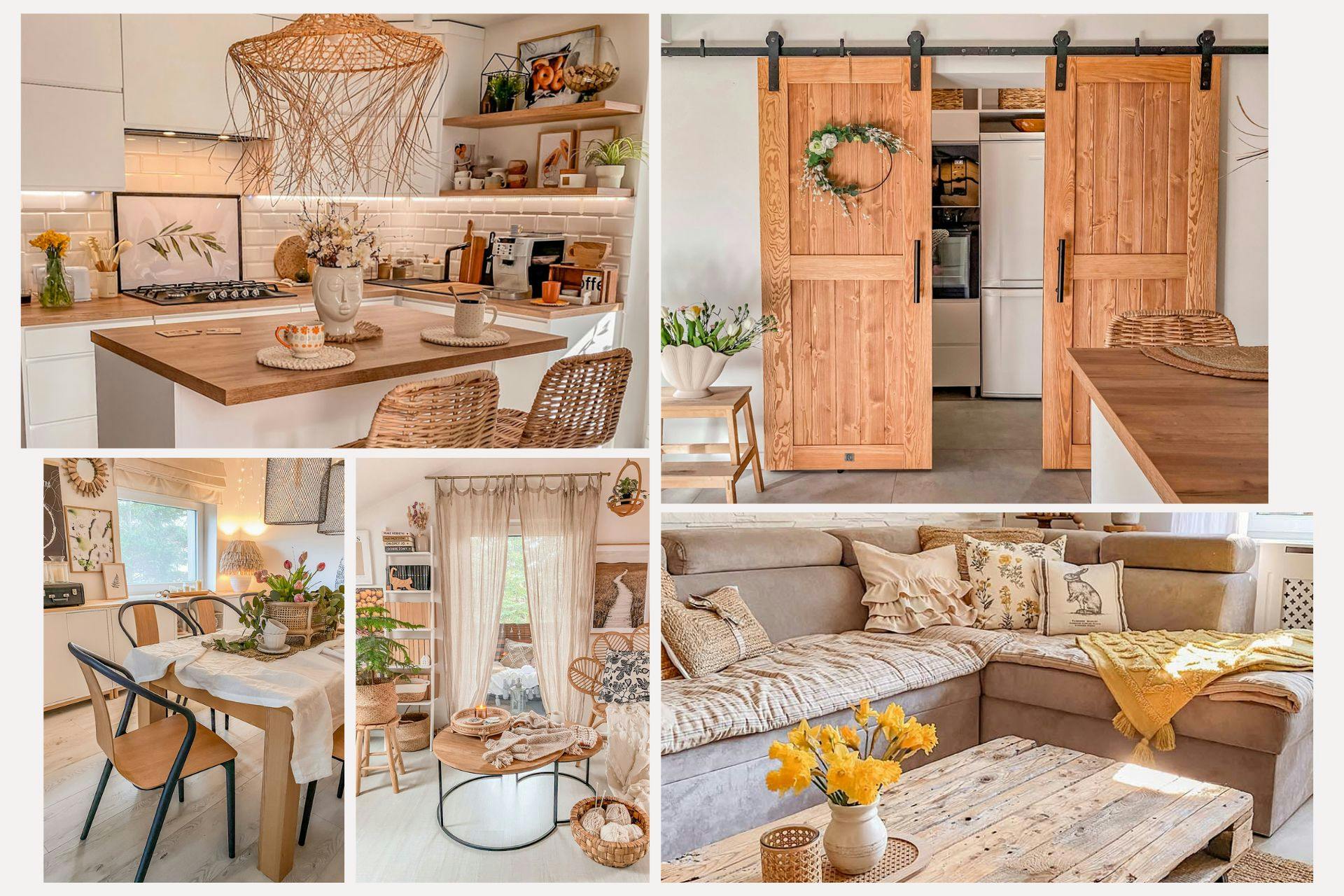 4. The power of colour
A yellow pantry door is a much bolder idea than traditional boho, Scandinavian or rustic interiors. In the room on the pictures, you can see the power of contrasts. The combination of light and dark elements, as well as black and yellow, both very saturated, allowed for an unusual play with colour.
An interior like this pleases the eyes and energizes. It is modern, but not overly raw, and practical aspects are combined here with an impeccable finish. Wooden elements (cabinet fronts, floor) warm up the industrial character of the kitchen, which is created by black tiles on the walls or a dark, shiny fridge. In addition, the fantastic pop of colour of yellow, lively sliding doors does not let you get bored.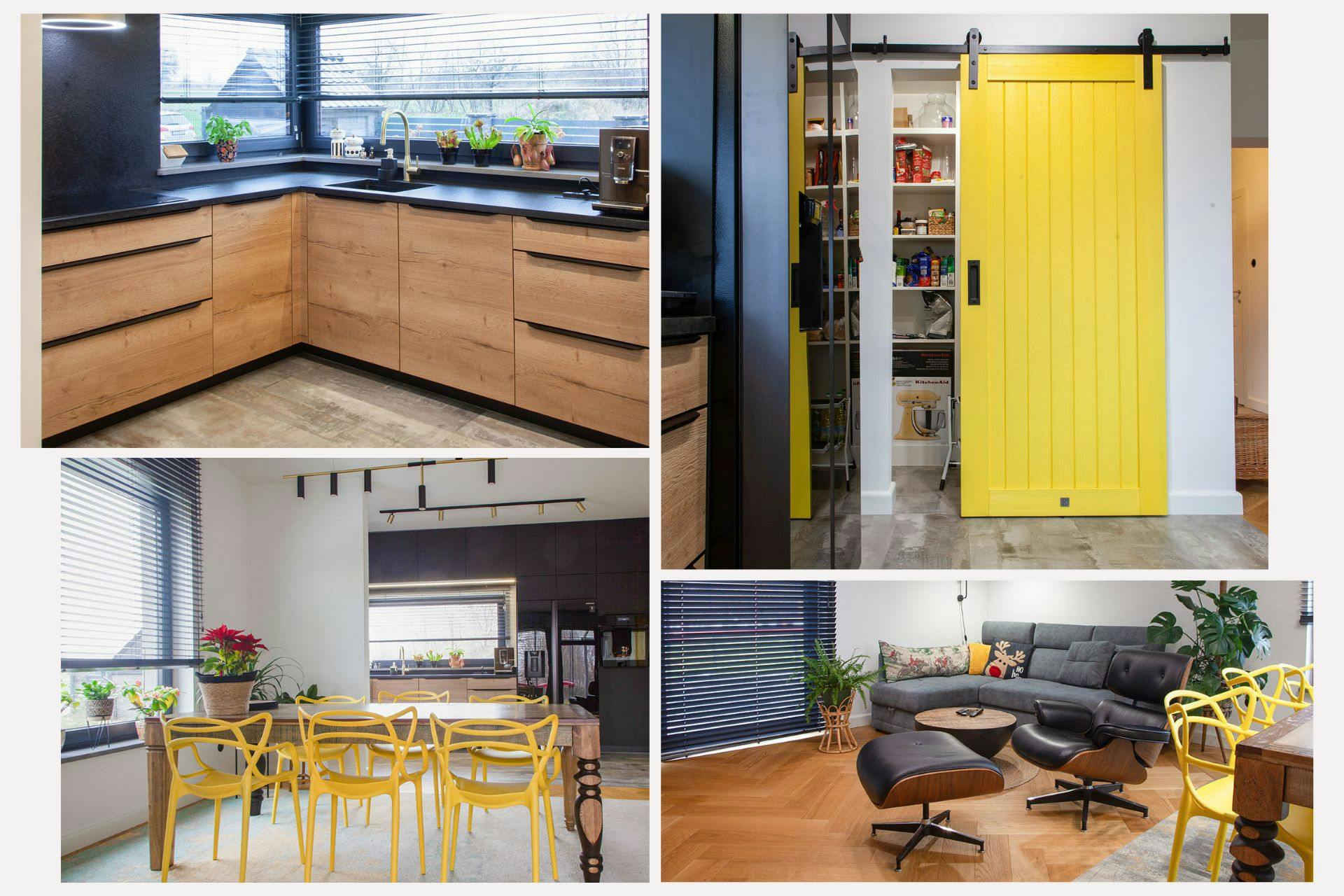 As you can see, sliding pantry doors in interesting arrangements are a recipe for a fantastic interior. It's a delightful combination of form and function. They are not only practical, but also stylish and allow you to make optimal use of the space in your home. If you need to arrange a kitchen with a pantry or dream of creating an extraordinary interior - this is the solution for you. Take a look at our wooden sliding doors and choose the model for yourself.