Rattan in the interior is one of the most interesting decorative trends of recent months. Rattan has many advantages: from environmental friendliness, through natural appearance, durability, multifunctionality and lightness, to perhaps the most practical, but not to be missed aspect, i.e. ease of care. It is more and more often used as a decorative element of interiors, which adds warmth, character and cosiness. Let's have a look at the most interesting ideas for interiors with rattan and answer the question of why it is worth using natural rattan.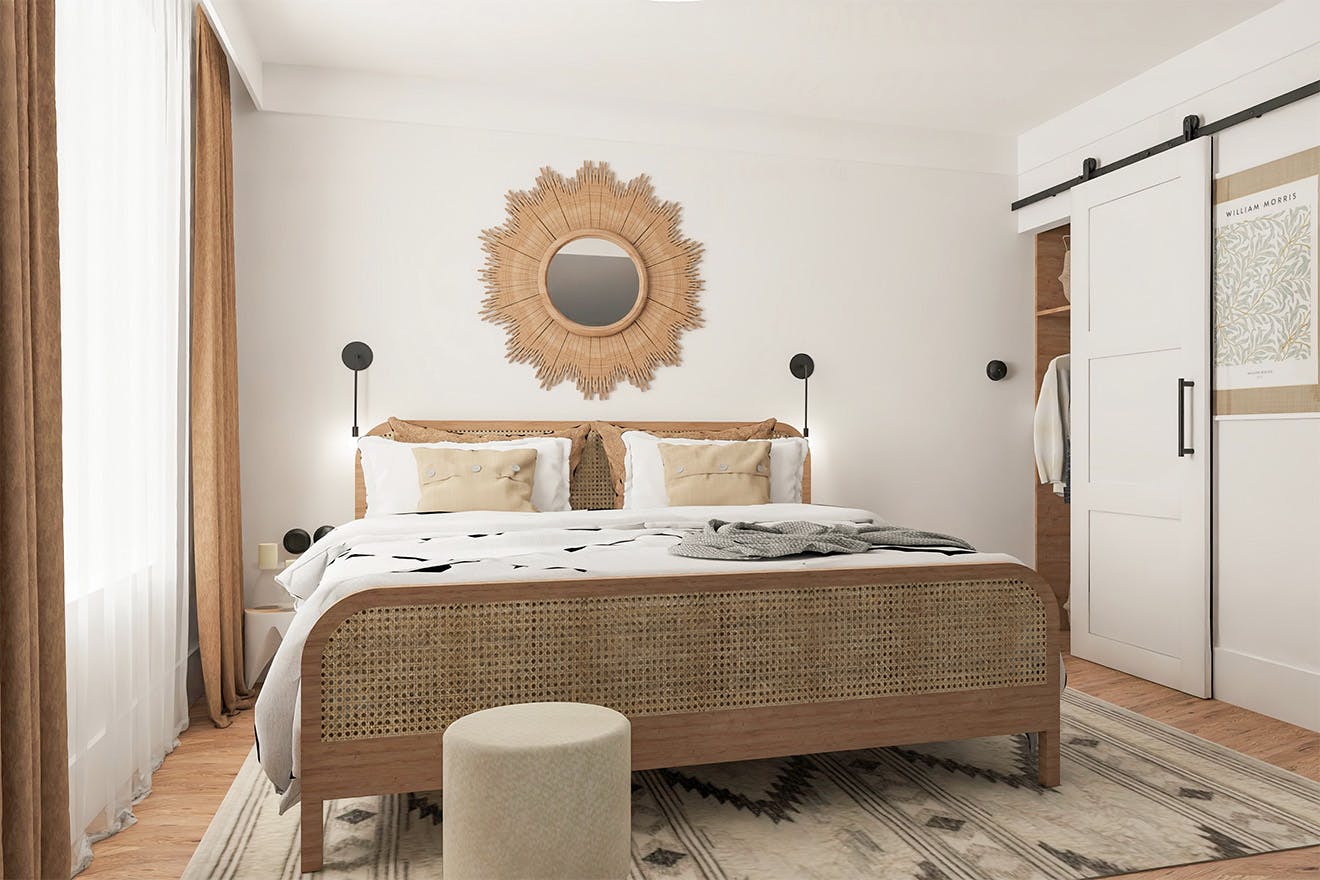 About the material - rattan instead of plastic
More and more people are starting to realize that using things made of plastic, which are unstable and not aesthetically pleasing, is not the best idea. Therefore, ecological decorations and interior design elements are becoming more and more popular.
One of the clear trends in the world of interior design is natural and ecological rattan. Where does this popularity come from? To be honest, we are not surprised, this material has a number of advantages!
Advantages of rattan. What makes this material stand out?
The rattan is:
Natural. It is made from the leaves of the rattan palm. It is an ecological option, which at the same time favours the environment, and add warmth and cosiness to your interior.
Easy to maintain. Rattan does not require complicated maintenance. All you have to do is regularly vacuum it (manually) or wipe it with a soft cloth. The key is to remove dust and possible dirt. Remember not to expose the rattan to excessive moisture and direct sunlight, as this can shorten its life.
Light. Do you often rearrange furniture and put accessories in new places? Rattan is the material for you. It is really easy to carry thanks to its low weight. Rattan furniture is a good option for people, to whom regularly arranging space anew, gives a lot of pleasure.
Ecological. Due to its natural origin and durability, rattan is more sustainable than many synthetic materials. Rattan palms grow quickly, so it is a resource that is easily renewed. And responsible use of natural resources is definitely environmentally friendly. What is equally important, the production of rattan furniture, unlike the production of plastics, does not generate large amounts of waste or emissions of harmful substances into the atmosphere.
Universal. Rattan is a material that fits into various interior styles. It will work great in both modern and classic arrangements, in cosy boho and Scandinavian-minimalist climates.
Durable. Rattan It is flexible yet durable, which makes it ideal for furniture production.
Where does rattan come from? A brief history
Rattan is made from the rattan palm, which is a plant found mainly in tropical and subtropical areas. This plant has many common names, such as: common rattan, Spanish cane, Calamus rotang, and also - simply - rattan.
Interesting fact: The most important regions for rattan production are Indonesia, Malaysia, the Philippines, Thailand and Vietnam. These areas are known for their rich natural resources of rattan and are a major source of this raw material supply.
Did you know that the history of rattan dates back to ancient times? In China, in the 3rd century BC, rattan was used to make furniture, baskets, mats and household items. Rattan was also popular in other East and Southeast Asian countries. How did it get to other parts of the world?
In the 19th century, rattan gained popularity in Europe and the United States due to the intermingling of cultures and trade. The introduction of rattan to the decoration of interiors and gardens has become an absolute trend in the arrangement of terraces, balconies and gardens. Rattan furniture, including chairs, tables and sofas, was a true must-have for the 19th-century lovers of the exotic.
Rattan nowadays
Today, rattan is still valued as a material for furniture, both in traditional and modern styles. Its natural charm, lightness, durability and versatility make it perfect for a wide variety of arrangements.
It is widely used in the production of furniture, decorative accessories, baskets, lamps, mirrors and many other interior accessories. Let's face it, after first hype on technology and vain hopes related to the "modernity" of plastic, we want to get back to nature. That is why we appreciate the natural look, durability and ecological character of rattan. This is why sustainable development trends are present and intense in contemporary fashion, including those directly related to interior design.
Rattan and wicker
Let's clear one more doubt. Rattan is not the same as wicker. Of course, they can be confused, because both are commonly used in interiors, e.g. for the production of baskets, and have a lot in common. Both materials are flexible and natural, of course, if they are not the plastic equivalents of natural fibres.
So what are the differences? Firstly, the appearance, hardness, origin, manufacturing process, maintenance and ... price. In a nutshell:
Rattan comes from the rattan palm and wicker from willow (sometimes also from other plant species such as yucca).
Rattan is harder and more rigid than wicker. It has greater strength, but is characterized by slightly less flexibility.
Rattan is more weather resistant and can be used both indoors and outdoors. Wicker is not suitable for the garden or terrace.
Rattan is slightly more expensive than wicker and is not used in mass production (it would not be profitable).
Rattan sliding doors - a recipe for a delicate, warm interior
And now that you know why it is worth adding a bit of magic to the interior with the help of rattan, we will show you some interesting inspirations. The main elements will be rattan chairs, chests of drawers, screens and… doors. That's right, rattan sliding doors are a fantastic idea to add character to the interior.
Tip: When arranging a house with rattan in mind, it is important to balance the individual materials and colours in such a way that the composition is harmonious and consistent, and possible contrasts are deliberate.
Arrangements with rattan. How to combine rattan with other materials?
Arrangements with rattan add warmth, naturalness and exotic charm to the interior. How to combine rattan with other materials to get interesting interior compositions?
Rattan + wood
This combination gives a truly organic look, perfect for interiors with a natural character. The combination of rattan and wood will add cosiness and warmth to the room. Perfect for both modern and classic spaces.
Examples of use: rattan sliding doors and a natural wooden floor, rattan chairs with a wooden table, a rattan shelf with a wooden door, a rattan basket next to a wooden coffee table, a wooden bed with rattan elements in the headboard.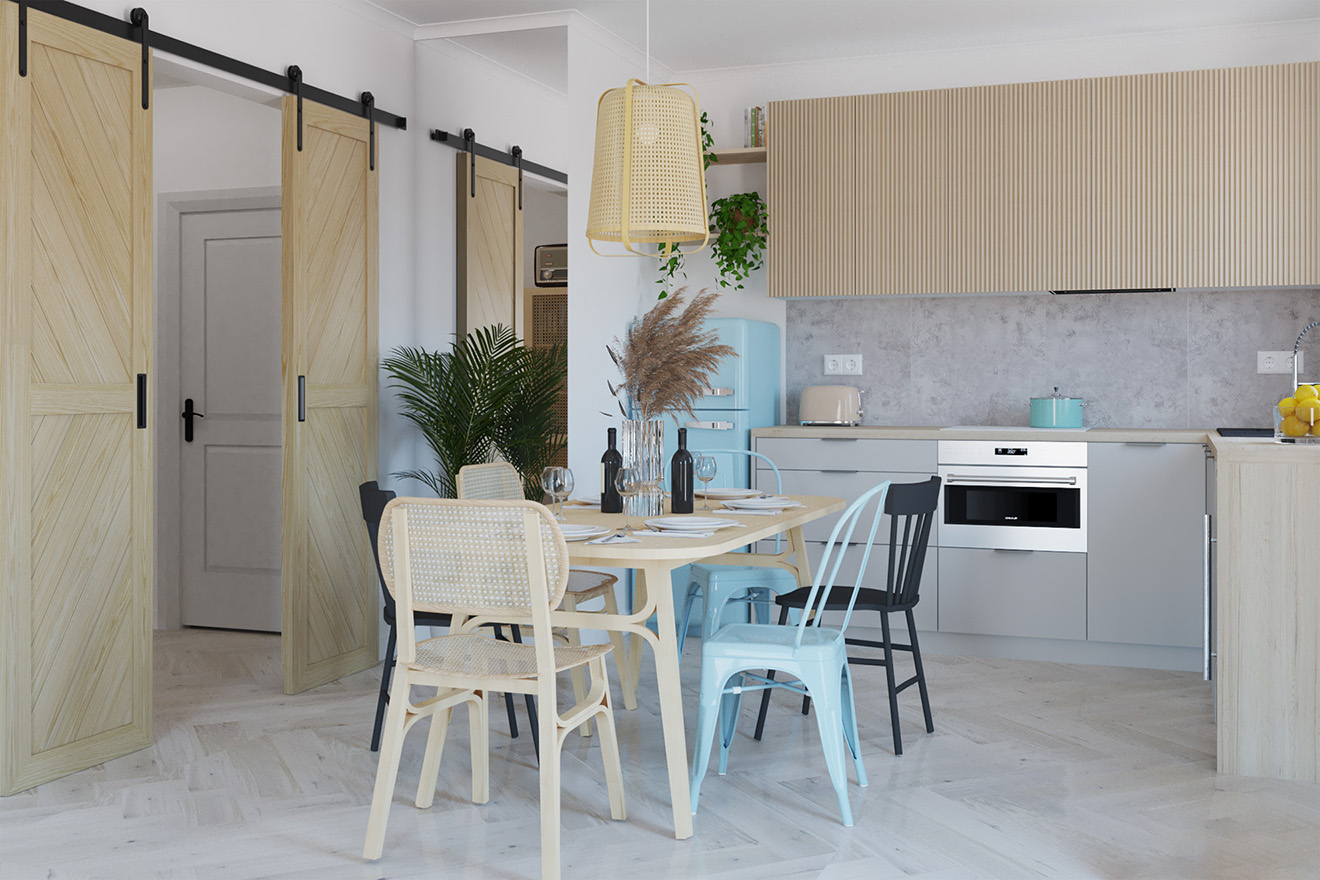 Rattan + bamboo
An interesting duo, thanks to which you will successfully revive the character of your interior. The combination of rattan and bamboo looks especially good in bright interiors.
Examples of use: a combination of a rattan basket with a bamboo mat, a hanging decorative braided rattan plus a mirror with a bamboo frame on the same wall.
Rattan + metal
The combination of rattan with metal details is a recipe for a modern, slightly industrial or loft interior. It is good to combine dark metal elements with light rattan for the desired contrast.
Examples of use: rattan chairs next to a metal (or metal and wood) coffee table, a rattan lampshade with metal elements, a rattan armchair placed in front of a metal sliding door in an industrial style.
Rattan + glass
This duo is an interesting contrast and a combination of modernity and nature. They allow for a very balanced character of the interior – light and elegant.
Examples of use: rattan chairs (or wooden chairs with rattan elements, e.g. on the backrests) and a glass table-top, a rattan lampshade with a glass insert.
Rattan + fabrics
The combination of rattan with natural fabrics is a great idea to add a simple, homely charm to the interior. What fabrics should be used for this purpose? We advise against all kinds of artificial materials, instead choose linen, cotton or wool, which will perfectly harmonize with rattan.
Examples of use: a rattan armchair with cushions in natural colours, rattan chairs combined with a linen tablecloth on a wooden table.
Have we managed to inspire you? If you already have your favourite rattan products, expose them in the interior in the foreground. And if you are just arranging your home - remember to focus on quality, durability and sustainable production. Have a look at the collection of our rattan doors, get inspired and choose your perfect model!